Hello everyone! I just have a question regarding my code for the War Card Game in which the game behaves somewhat inconsistently.
To illustrate:
The game behaves as normal during the first 3 instances. The player's card is larger than the CPU's card and so it increases the value of the player's score.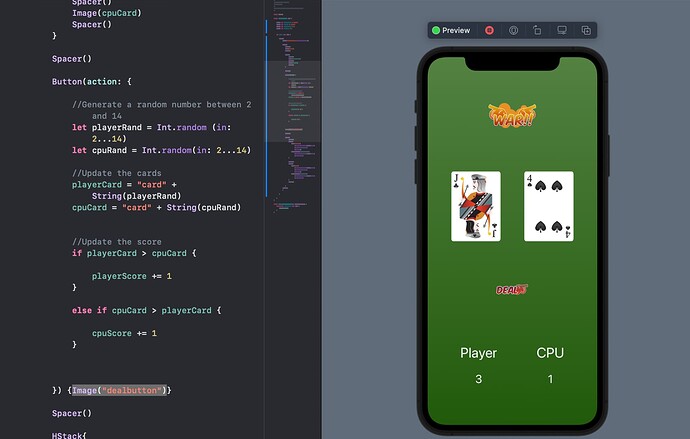 However, as you can see in this instance - the player's card is clearly larger than the CPU's card - however the CPU's score is increased instead of the player
Why is this the case? What did I do wrong? I realize that Chris used "playerRand" and "cpuRand" for his if statements, whereas I used "playerCard" and "cpuCard" - however, I do not understand why this wouldn't work logically. Can someone please explain?
import SwiftUI

struct ContentView: View {

@State var playerCard = "card5"
@State var cpuCard = "card9"
@State var playerScore = 0
@State var cpuScore = 0


var body: some View {
    
    ZStack{
        Image("background").ignoresSafeArea()
        
        VStack{
            Spacer()
            Image("logo")
            Spacer()
            
            HStack{
                Spacer()
                Image(playerCard)
                Spacer()
                Image(cpuCard)
                Spacer()
            }
            
            Spacer()
            
            Button(action: {
                
                //Generate a random number between 2 and 14
                let playerRand = Int.random (in: 2...14)
                let cpuRand = Int.random(in: 2...14)
                
                //Update the cards
                playerCard = "card" + String(playerRand)
                cpuCard = "card" + String(cpuRand)
                
                
                //Update the score
                if playerCard > cpuCard {
                    
                    playerScore += 1
                }
                
                else if cpuCard > playerCard {
                    
                    cpuScore += 1
                }
                
                
                
            }) {Image("dealbutton")}
           
            Spacer()
            
            HStack{
                Spacer()
                VStack{
                    Text("Player")
                        .foregroundColor(Color.white)
                        .font(.largeTitle)
                        .padding()
                    Text(String(playerScore))
                        .foregroundColor(Color.white)
                        .font(.title)
                }
                
                Spacer()
                VStack{
                    Text("CPU")
                        .foregroundColor(Color.white)
                        .font(.largeTitle)
                        .padding()
                    Text(String(cpuScore))
                        .foregroundColor(Color.white)
                        .font(.title)
                }
                Spacer()
                
            }
        Spacer()
        }
        
    }
    
}


}

struct ContentView_Previews: PreviewProvider {
static var previews: some View {
ContentView()
}
}