I am working on IOS Fountations Swift UI Mod 5 Lesson 9.
We are making a learning app which is pretty complicated. We set up a home view with links to lessons and tests. We have completed implementation of the lessons including videos and descriptions. Now we are working on setting up the views for the tests that go with the lessons.
Here's the problem. When I run my app it does not run properly in the simulator. I downloaded the demo version that Chris created, and his doesn't run properly either, so it's not a code issue. Although we have set up a partial view for the test screen, nothing shows up, and when you click on 'Learn Swift' you go to the lesson, but rebound back to the home page.
Below is a screen shot of what Chris' test view looks like in the M5 L9 video. After the screen shot is a video showing what's happening when I run the apps. You'll also notice in the video that Chris' app does not have all the elements in proper alignment.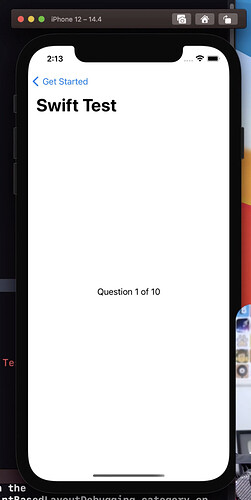 I have tried restarting Xcode, restarting my MacBook, cleaning caches, and cleaning build folder.
Any ideas on how to fix this, would be appreciated. BTW preview is not working, but that usually doesn't pose a problem with the simulator.