Hey CodeCrew,
This is my attempt to my first community App challenge, that's a great idea to give us the opportunity of doing this and it was very cool and challenging.
You can find my repo here : GitHub
Level 1 Requirements:
Show a simple list of collapsed items or cards
Extract the list information from the join JSON file, or you can come up with your own assets
Show a collapsed list that consists of the following:

Car Image
Name
Price
Rating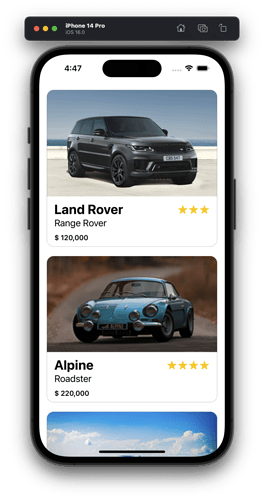 Level 2 Requirements
Add or implement the expandable card to the list
By default, the first item should be expanded
Upon clicking or tapping an item, the previous item will collapse, and the new item will expand.
Pros and cons sections should be shown.
Note that there is no limit to the number of bullet points inside the card so these should be added and scaled dynamically.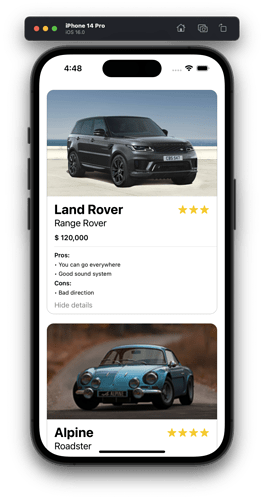 Level 3 Requirements
Implement the filters
Add a filter section in the UI, such as:

Vehicle make
Vehicle model

You can create the two filters list from the JSON provided or come up with your own
Show the result in the dropdown
The UI should be updated accordingly upon selecting a specific filter/s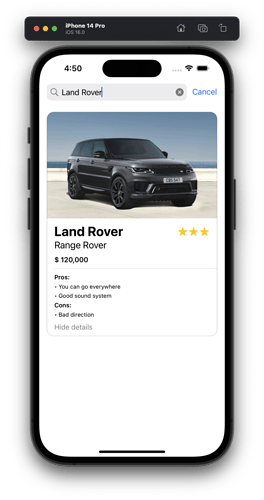 For the stage 3 i used a single search bar, looking for make and model in the json.
That was a great one and I can wait to see the next challenge.