Dear Community,
I've been following the tutorial on "Firebase Authentication Tutorial 2020". I successfully installed Cocoapods v 1.7.5 (newer ones somehow did not work). After incorporating the Firebase pods to the pod file and starting the xcworkspace file that has been given, I always fail to build.
Undefined symbols for architecture x86_64:
ld: symbol(s) not found for architecture x86_64
clang: error: linker command failed with exit code 1 (use -v to see invocation)
a more detailed description of the error is attached by the image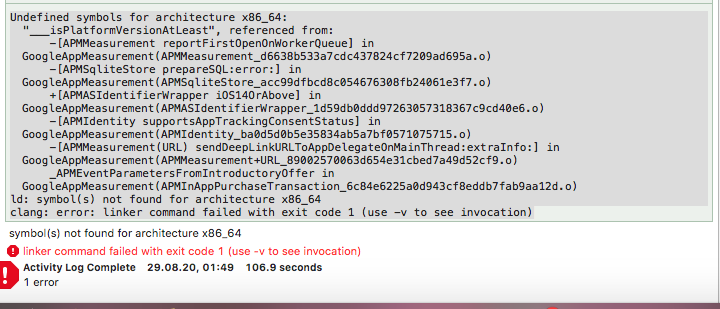 Is there any help out there? All my google searches / tests / SO & Github searches have did not solve the problem.
Many thanks and kind regards
Markus
PS
I use Xcode 10.1
MacOS 10.13.6 (this is the max. i can install, higher not supported unfortunately)