Hi all - I am trying to follow Chris's process for uploading photos to Firebase (reference link: Uploading Images to Firebase Storage (and retrieving them) - YouTube).
I am able to go through the process of selecting an image from the simulator and it appears in the UIView in the simulator, but I get the following error when I try to post it to Firebase: "Thread 1: EXC_BAD_ACCESS (code=257, address=0x1f)".
This error appears next to the storage.reference() code, but also appears in the "Thread 1" dropdown in the Debug Navigator.
I did a bit of research and it appears to be an error related to memory (EXC_BAD_ACCESS crash error: Understanding and solving it - SwiftLee). I've also tried making the Firebase permissions public, but that gives the same error, so I think we can rule this out as the problem.
Has anyone come across this before and can share troubleshooting solutions?
See photo of the error to reference:
Error next to storage.reference code: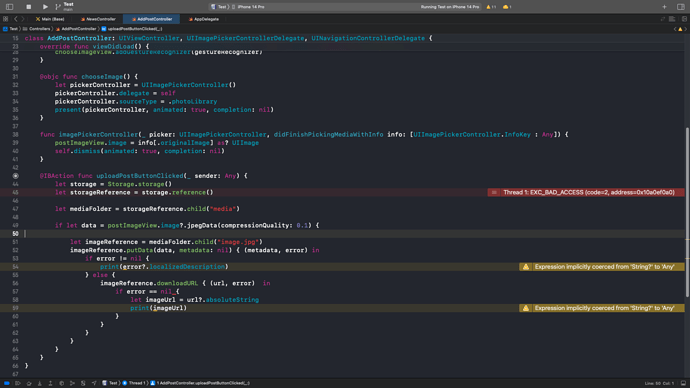 See code below:
import Photos
import PhotosUI
import UIKit
import Firebase
import FirebaseStorage

class AddPostController: UIViewController, UIImagePickerControllerDelegate, UINavigationControllerDelegate {
        
    @IBOutlet weak var postImageView: UIImageView!
    @IBOutlet weak var uploadPostButton: UIBarButtonItem!
    @IBOutlet weak var commentText: UITextField!
    @IBOutlet weak var chooseImageView: UIImageView!
    
    override func viewDidLoad() {
        super.viewDidLoad()
        
        chooseImageView.isUserInteractionEnabled = true
        let gestureRecognizer = UITapGestureRecognizer(target: self , action: #selector(chooseImage))
        chooseImageView.addGestureRecognizer(gestureRecognizer)
    }
    
    @objc func chooseImage() {
        let pickerController = UIImagePickerController()
        pickerController.delegate = self
        pickerController.sourceType = .photoLibrary
        present(pickerController, animated: true, completion: nil)
    }
    
    func imagePickerController(_ picker: UIImagePickerController, didFinishPickingMediaWithInfo info: [UIImagePickerController.InfoKey : Any]) {
        postImageView.image = info[.originalImage] as? UIImage
        self.dismiss(animated: true, completion: nil)
    }
    
    @IBAction func uploadPostButtonClicked(_ sender: Any) {
        let storage = Storage.storage()
        let storageReference = storage.reference()

        let mediaFolder = storageReference.child("media")

        if let data = postImageView.image?.jpegData(compressionQuality: 0.1) {

            let imageReference = mediaFolder.child("image.jpeg")
            imageReference.putData(data, metadata: nil) { (metadata, error) in
                if error != nil {
                    print(error?.localizedDescription)
                } else {
                    imageReference.downloadURL { (url, error)  in
                        if error == nil {
                            let imageUrl = url?.absoluteString
                            print(imageUrl)
                        }
                    }
                }
            }
        }
    }
}