Hi guys,
I hope everyone is having a nice day.
I have a question because i'm very curious about how the debugger windows works in xcode 11.
I just finished module 2, lesson 6 of the database course and there is a section in which you have to parse the data snapshots ( DataSnapshot) coming from firebase. In this part, Chris use the debugger command "po" in order to check what is inside this data snapshot:
[See image number 1 at the end of the post]
[See image number 2 at the end of the post]
My question pops up, when i check the left pane of the debugger. There i can also check the variable "snap", but it's quite different from what "po" prints. If i dig into the snap variable in the left panel of the debugger, i can see the key/value pairs of my children object (age: 23, likes: "Ice cream", etc) but i cannot find the key of the main object (which is "Alvaro"):
[See image number 3 at the end of the post]
Seems like the key of my object is "hidden" in some way, and the "po" command knows how to retrieve it. I just want to know more of how everything works under the scenes. I hope someone can give me some insight about this, it will be much appreciated.
Here is how the data looks in firebase:
[See image number 4 at the end of the post]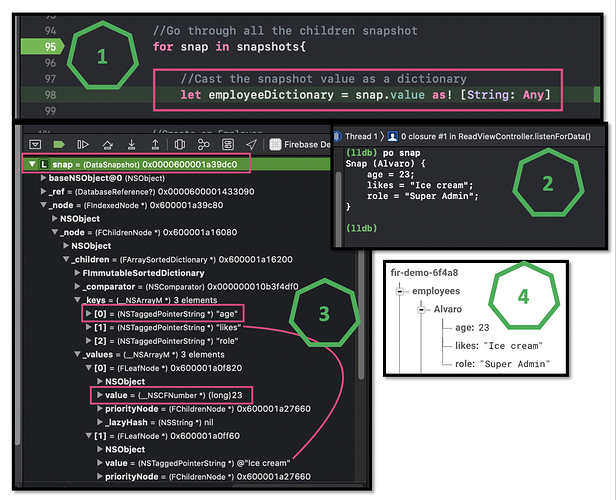 Than you very much,
Cheers,
Alvaro