Hi, everyone, this is Nate, happy to join you guys/gals ; )
I completed this challenge, here are some highlights of my work.
System Design
App Architecture: MVVM
UI+Layout: Programmatically created UI + Frame-based layout
Language: Swift
Services / Dependencies
APIService, also I realized NBA teams are somewhat constant, so I injected a tiny core data container specifically for teams date into my APIService.
DependenciesService. This is a fairly small app, so I ended up with just one APIService object inside this DependenciesService container. I guess I over-engineered this service.
ThemeController. This dependency is used to control dark/light theme.
UI Highlights
Themed Design, UIColor.systemRed as the theme color.
Rounded tab bar
GamesViewController (the first tab)

Moving NBA logo on the upper right
CardView

Gradient color view for opposing teams

TableView cell sliding in animation

StandingsViewController (the second tab)

Sorting button, which is a context menu button.
Some Screenshots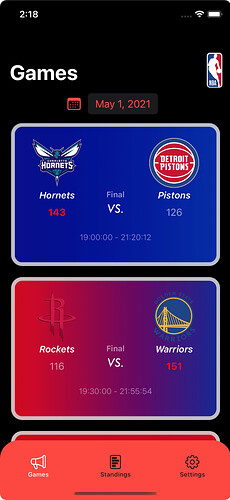 p.s. i want my very first badge