So I just finished my app for the monthly challenge, and because I totally forgot to write this journal, I will summarise my steps

Day 1
I started by searching for ideas on how the app should look like, what features it should have and which API I'm going to use.
After a bit I decided to lean on the original weather app from IOS for the design, and OpenweatherMap over RapidAPI as the API.
Features should then be:
Current temperature + real feel
Current weather situation (cloudy,…)
Different measurement units
Textfield as entry for weatherlocation
hourly and daily preview
Then I started creating a first mockup view for the app with dummy items and dummy data
Day 2 - 4: I hate APIs and JSONs


On these day I wanted to write the code to receive and update the weather data.
On RapidAPI all Endpoints are free except the "16 day / daily forecast data" so i had to extract the daily data from the other endpoints (yeah I could searched for another API oder paid, but… nah, why make it easy?

).
I decided to stay on the "5 day / 3 hour forecast data", which gave me a good compromise.
And there it begun… writing code to get the data wouldn't be thaaaaaat hard I thought…
I grabbed the Code Snippets from RapidAPI and watched CWCs Videos on APIs and JSON parsing, but I don't know what I did… it just refused to work.
During mental breakdown from the API code, I decided to try something more easy and write code for a settings page to update the units or location data for the forecast.
This on the other hand was quite easy and gave me some hope back to finish this project

After some more time I eventually got the code for the API to work.
I guess the code looks quite messy, but it works, so I won't touch it anymore…
Day 5
Now, that I have all the bits and pieces for the App, I started putting them together.
During "assembly" I realised, that extracting daily data from 3 hour timestamps of the API call wasn't that easy so I had to come up with something else.
Instead of separating the hourly forecast from the dsfaily forecast, I just made a List where each item contains a 3 hour timestamp. After each day I put a Capsule() element to make the list easier to read.
Then some more minor polishing, and it was basically done. The last thing I needed was an Icon.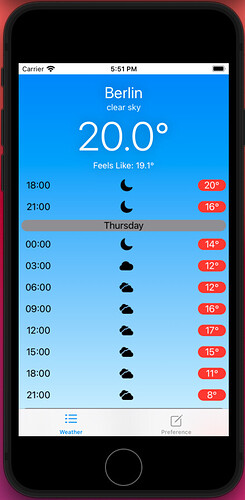 And there was it again… the part with creativity…
So I jumped in… yeah… pages and threw a gradient color square and an SF Symbol together which looked not that bad in the end

Conclusion
It was a really fun challenge which helped me to go out of my comfort zone with app building and learn new stuff

I think there are quite some improvements to make in my app (mostly the API part looks a bit sketchy I think) but I'm happy to have finally learned how to put something like that together.