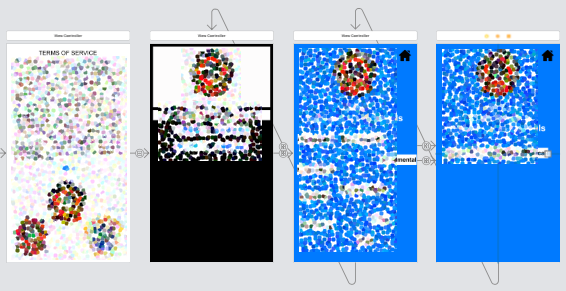 I have started on a personal app with the primary focus of being able to navigate a number of menus in order to locate a specific & relevant pdf document. As you can see by the attached image, I presently have four screens; the first is a legal disclaimer which by clicking "I Agree" will take you to the main directory page (second screen). The third page/screen is a submenu page with the subtopics of the main topic picked from the main menu (page two). The fourth page takes you to the relevant buttons that I hope to link & open the pdf files based on the user's selection from the third page. It is from the fourth page that I want to open a specific pdf file (by clicking the appropriate button).
Internet searches have found many methods (based on old versions of Swift & X Code) but do all have one thing in common - it appears that I will need to manually add code to the ViewController.swift file. However, when I highlight on the fourth page & open the assistant editor, I am not able to open the ViewController.swift file - I am only able to see a page of code entitled UIViewController.h (wish I could attach a second image but alas, as I a new user, I am not allowed).
The UIViewController.h page has tons of code (641 lines) & it appears that I am not able to add any code &/or link the push button to the code by pressing & holding control on the button within the view controller scene & drawing a line to the code area. Even if could, I would have no idea where to insert it within the 641 lines of code.
I am obviously doing something wrong but I have no idea what.
Help!
Please.