Hi everyone!
@florentp and I are a duo of two best friends who, in the early days of summer this year, had an app idea.
Immediately, we decided to stray away from our individual career paths to pursue this business idea together instead. We initially thought about finding a CTO cofounder to build it, but when we found CodeWithChris's YouTube channel, we decided to learn to code it ourselves. We invested in a yearly subscription to CWC+, and now, as we've already made a lot of progress, we thought it was high time we introduced ourselves

First, a bit of our… "Coding Background": so here's a photo of Flo in late June, discovering the concept of an "if statement" for the very first time in his life and carefully taking notes on Notion. As for me I did some VBA in previous jobs but hated the language and some Python at business school for a machine learning course which I utterly failed… so anyways, while I had some experience, I was still no developer either.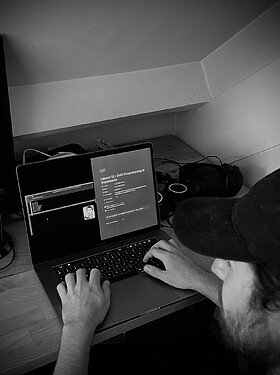 We grinded through the Foundations (SwiftUI) course, and we absolutely loved it. We'd sometimes spend an entire night on just one challenge, but completing them reaaally helped us build muscle memory. "Never learn anything by heart", as Chris often repeats it, just keep coding, keep reverting to previous work, and things will start to stick naturally. (Except JSON Parsing - That will forever suck

)
Despite both being beginners, we clearly have complementary abilities.
Personally, I get excited about visualizing Data Flow, modeling data in FireStore and researching source codes of cool MVVM examples. My original background is in finance, so it makes sense that on the developer spectrum I feel more attracted to back-end. On the other hand, Flo is definitely the front-end star of the duo. Copywriter for a living, with a secret passion for artistic direction and UI design. He used to prototype on Adobe XD, but now that he knows SwiftUI, he prefers to design views as he codes.
We work really well together. We met at 17 yo by starting a band. Fun times. Now a decade later, we're trading the stage for the App Store.
Since completing iOS Foundations in late July, Flo has been working on the views for our app while I dove into back-end. I completed the Databases course, set up the Firebase SDKs for our MVP's basic features (but I'm waiting for the social photo app SwiftUI course to add pictures haha). We've also been expanding our knowledge with new sources: Kavsoft's YouTube channel has been a treasure for Flo, and lately I've had my eye on Fireship's Cloud Functions course in JavaScript.
In the beginning, trying out CWC came from a « what-if » mentality: what if we could make a simple MVP ourselves? But now, we're confident that we can make the app of our dreams, that we can learn anything, and so we DEFINITELY don't need a CTO.
Once we're all set with trademark and incorporation, we'll post a few previews here before launch. We are super excited to become a part of the CWC community and for everything that's to come!
Raph & Flo