I'm stuck debugging a function that is behaving weirdly and I'm starting to think it has to do with threads?
The Goal:
Create a view that lets a user connect to a particular collection in my database that has already been created. That way two people can both add and view the same collection of data even though they are separate users.
What I Have Working
When a user signs up, I have a view that asks the user if they would like to enter a code.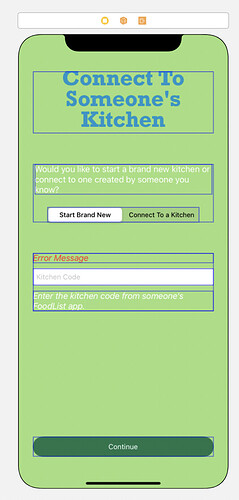 The View Controller for this screen, takes the user's input and validates that it's in the right format. Then it passes it to a KitchenManager struct that I've made.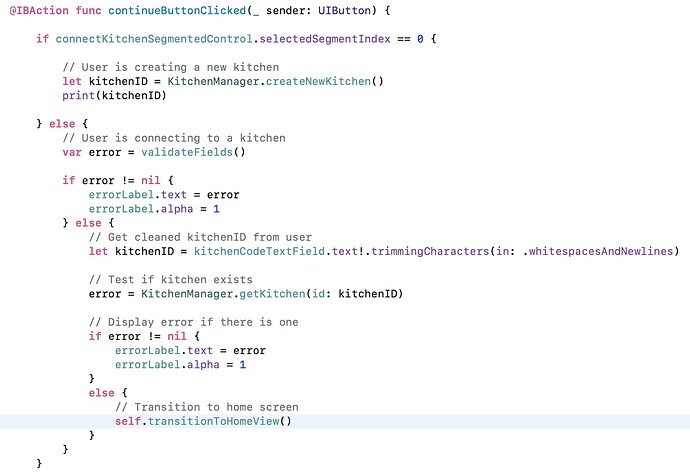 What I Expect the KitchenManager.getKitchen Function To Do
The KitchenManager should attempt to query the database for that particular document. If it has an error with the query, it should return the localized description of that error. If no document exists with that ID, it should return the "Kitchen not found" error. If it finds the ID, it should return nil to the VC that called it and assign the id it was given to a property in the KitchenManager.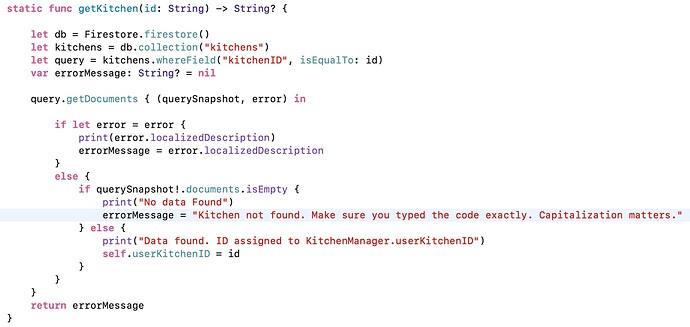 What It's Doing
Right now, it calls .getDocument and immediately jumps to the return errorMessage at the end of the getKitchen function. It returns to the VC, updates the UI incorrectly (since it thinks the errorMessage is nil), then comes back to the KitchenManager, runs the code inside getDocuments, and sets the errorMessage correctly. It never goes back to update the UI though.
My Current Theory
So I think what's happening, is that the doc takes too long to get so it jumps to the end of the function and updates the UI in the VC? Then once it gets the doc, I think it returns to run the code inside the function? Is there a way to avoid this using threads? I don't want it to return back to the VC until it knows if that document exists or not.