Initially, I wanted to use marketstack.com for the API stock data, but the free connection is only by http, not by https. I updated the Info.plist for this exception, but was not totally sure, if it was working. I then looked into the great solution from @chflorian and now I'm using AlphaVantage, too.
I used the full daily API and extracted the min/max of the last year (last 365 days; the API response will give to you more than 2 years of data). Furthermore I passed the data from the last week and the last month and the last year into arrays, so I can display them in the line chart.
Then, when the values are displayed in the tiles, I truncated them to the decimal point (no rounding) when they were passed as a string, and rounded them when they were passed as decimal.
For the line chart, I added another rectangle so that you can see the values when you slide over the line chart with your finger. The value is only displayed in black and I couldn't find a parameter to change this.
Currently, I use the Demo Key for the API request, thus you only see fictional IBM data. In the sample below, you see the current value of IBM, the daily min/max and the annual min/max. In the chart, you see the closing values of the last 7 days. You may notice that the current day is on the left side, so I need to reverse the values in the array.
Things to do:
Reverse the values in the line chart array, so that the most current date is on the righthand side
Highlight the "week", "month", year" buttons, depending on what is seen on the line chart
Get the "add ticker symbol" and "remove" buttons to work
As this is working quite nicely, I will try to share my solution when it's finished.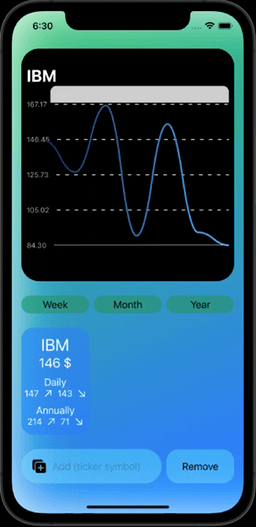 (keep in mind: the colors in the background blend without any boarders in the app, it's just in the GIF that you can see the pixels)
Edit: Oh, the array reverse was reaaaaly easy.
var oneWeekCloseValues: [Double] {
var first7 = Array(closeValues.prefix(upTo: 7))
first7.reverse()
return first7
}