You're more than welcome, Alexandra! Proud of you and hope you'll participate in our other challenges! Badge awarded!
Hi Shreya and welcome to the Code Crew community. Great work and I hope you enjoyed the challenge.
Badge awarded.
Hi Kartik, good job on completing the App.
Badge awarded.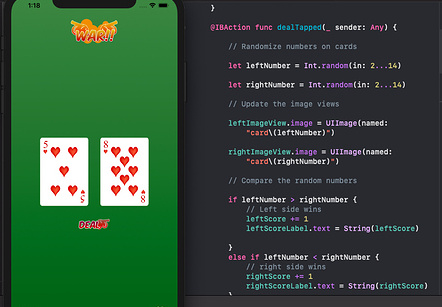 thanks for this wonderful course. i have learnt and done.if you can, provide me badges or certificates to my mail: dharaneeshdd@gmail.com
Well done, your hard work paid off! Better things to come for you. Enjoy your first badge!

I received your mail stating that you provided me with badge.But I can't access the badge and I don't know where to get the badge.please help me with this problem and if you can, mail me badge. dharaneeshdd@gmail.com
It's not a physical badge or one that can be downloaded. It is a badge that is attached to your username in the CodeCrew community forum as recognition of you having completed the War Card App. If you tap on your username above in this thread you will see the badge listed.