Thank you very much Arthur!
Hi Folks!
Been 9 years into various frontend/ backend QA Automation Engineering projects and started into Swift development recently.
Keep up the motivations and keep each other spirits high!!
Absolutely love Chris work and tutorials!
Greetings!
Hi Chris and Code Crew folks,
First of all, thanks for this chance to be part in this community. I'm pumped!

I'm an Electronics Engineer by profession specialising in power electronics and AC-DC power supply design. Coding is something I do as a hobby since my day job doesn't provide such opportunity for me to code. I really love coding and I'm very passionate about it. Way back in my university days I taught myself C programming before taking the actual subject in the following semester. I did Arduino coding sometime in 2018 but somehow didn't manage to progress any further. I kind of lost the interest because the items in my tool box keeps on growing and growing. Over time I became tempted to buy equipment like my o-scope, probes and other hardware tools for troubleshooting. It was not sustainable for me since I don't have space in my tiny apartment.
This prompt me to give Apps development a closer look. Honestly, I don't know where and how to start but I was sure I need to get myself an Apple Computer.
Chris's iOS tutorial is the one that showed on top of the list when I searched for iOS programming.
I clicked it and the rest is history. I'm totally hooked! The lessons were well-structured and I manage to follow all of it.
I know I still have a lot to learn that's why I join this community so that I can stand on the shoulders of the experts and learn from the best.
I'm positive I'll be able to get amazing help from all of you.
Cheers!
Ed Bas
Hello CodeCrew!
I'm Kenroy, Call me wiz, I have been coding for a copy years now but decide to learn some IOS development around 3 months now.
Recently finish Chris beginner tutorial on YouTube and loved it.
Thanks a lot bro!!
Blessings,
—wiz
I started in the 80s with RPG and basic. I did some Linux and HP-UX scripting in the Air Force in the 90s and 2000s. Then I played around with SharePoint and InfoPath for a bit. Then I dropped off the face of the virtual earth. Suddenly, I had the desire to write an iOS app, googled it and found you! I am soooo happy I did. I have missed coding so much. It feeds my soul. Thank you for walking us through this in such a friendly fashion.
Welcome, Patrick! As they say, once a door closes, WINDOWS of opportunities open! You seem very experienced anyway when it comes to programming so you can only go up from here. Thanks for joining us here. We are glad to have you! Have fun!
Great to read this, xatitude! Thanks for your kind words. I hope that our tutorials will continue to fuel your motivation. Cheers to positivity and willpower!
Wow, Ed! Thanks for your very heartwarming intro. Glad to know that our tutorials have made significant impact on your learning progress. Yes, you are right that we are a small yet growing family here who will cheer for each other as we continue to achieve our learning milestones. Thank you again!
Thank you as well, wiz! Your support means a lot. Welcome to the family!
We can feel your passion, jendarling! We can't wait to see the stuff you'll create/develop. Update us! Have fun learning and connecting with the other learners here!
Hi CodeCrew.
I'm Matthias from Germany. I've been working in IT since more than 20 years, the last 15 years as a database administrator.
I'm fascinated by Apple for years and wanted to write apps but didn't know where to start.
I came across you by looking for a introduction to Xcode and now I'm doing the tutorials.
I like your pragmatic teaching style and the professional videos.
Keep on the good work.
Cheers
Matthias
Your support means a lot, Matthias! Thanks a ton for your kind words. Your experience is very impressive. We're looking forward to your progress and future apps. Welcome again to the community. Cheers!
Hey there,
I'm Dieter and coming from the SAP world.
I'm simply bored to always write ABAP code (which is still mostly not really object-oriented, or not lived the oo-way).
So I wanted to learn iOS-Dev/Swift and create some apps for fun and to help the iPhone community.
I finished the WarCard-game and though I've been developer, I still learned a lot from the first lessons.
Thanks Chris and Team for making an awesome job and explaining stuff in a way everyone can understand it.
Keep going !
Best from Zurich Switzerland,
Dieter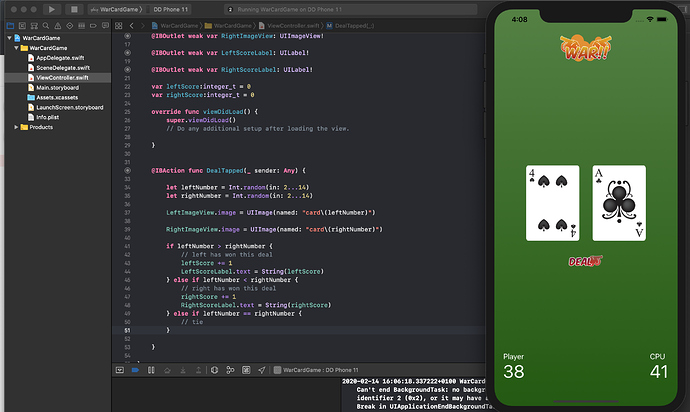 Hello everyone,
My name is Paul.
So why I'm here: I'm trying to make my own apps I have an apple developer account. I don't expect to get rich making my own apps or jailbreaking tweaks or the GitHub projects I'm trying to get reworking I am dyslexic but I'm trying to improve myself and prove to myself I can do this.
I have been trying to get some GitHub projects reworking but I'm struggling to get them updated from as the original developer has not updated them I want to get them updated myself so I can use them and keep them updated to help give people a helping start.
I have been following CodeWithChris and following what Google and StackOverflow say's to fix the problems but it is not fixing all of them.
Thank you, everyone and fingers crossed someone can help point out where I'm going wrong
— Paul
Hey guys! I am a senior in high school with absolutely 0 prior knowledge to coding. I started my coding endeavor on January 1st 2020 in order to build a social media app idea that I had. Considering I have school along with sports and weight training every day I have limited time to work on my app however I do not give up. I plan to have my app completed before my first day of college. App development is not my passion however entrepreneurship is and whatever I have to do in order to establish a name for myself in the business world, I will do. I am in the facebook group and they have been a huge help so far and I am hoping I can use this outlet as a resource as well!
Thank you and nice to meet you all!
Hey Crew!
I am here to learn iOS app development so that one day I can turn my unique idea for basketball training into an app that the world can access and try for themselves. I'm completely new to any sort of coding, but very excited and motivated to learn. Chris you seem like a great teacher and I am very comfortable putting the fate of my learning in your hands

Hello my name is maren and im hoping to be able to eventuelt learn to make a ordering app for my parents buissness… Im Still very New too programming but your videos are Great so im sure ill figure it out

Ich danke dir sehr, Dieter! Welcome to our family. Your support means a lot, truly one of the reasons why we do what we do. Trust us that we'll be the first in line to check out the very first iPhone app that you'll make. Cheers, and keep up the excellent work as well!
Welcome to the community, Paul! Glad to have you around! Your concern will be attended to in another thread, but for now let me just say that your collaborative spirit will take you so far. Thanks for your initiative to update the code in order to help others! Kindness wins! Have a great stay here!
Great to have you here, JaxLax02! We can't even imagine how busy senior high life is at the moment for you, with all the college apps, senioritis, academics, and extracurriculars like sports as you said, but look, here you are, still persisting to work on your social media app! Topnotch! Yes, the community here will be more than willing to help you out in achieving your goals! Keep on updating us regarding your app's progress. Cheers (and congrats in advance for graduating!)